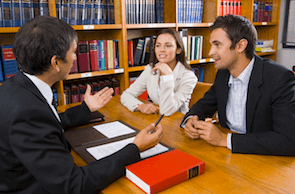 Divorce is often contentious, but it doesn't always have to be. At Gerkin & Decker, PC., We specialize in working with men during the divorce process, and we have extensive experience handling all aspects of divorce, including alimony, child custody, and the division of assets. Over the years, our family law attorneys learned that even amid conflict, husbands and wives could navigate the divorce process amicably. If you're getting ready for divorce, following these steps may help make the process easier for you, your spouse, and your children.
1. Be intentional about remembering the good times. Remember, you are divorcing the same person you fell in love with. Yes, people can change for the good or the bad, but many qualities that made the person so desirable to you long ago remain in him or her. A conscious effort to focus on these things can assist in an amicable divorce process.
2. While it might sound silly, commit to following the Golden Rule. If both parties choose words and actions carefully and treat their spouse the way they would like to be treated, the process is not only smoother but also a lot less stressful. This is an especially valuable approach to take when there are children involved.
3. Finally, it is advantageous when both parties embrace compromise and collaboration. Sacrifices must be made regarding assets, but when spouses deliberately embrace compromise, the process is much less contentious.
Spouses who agree to follow these tips can often negotiate many of the divorce terms on their own, making the process quite amicable. Divorce is hard enough without additional stress and strife. The loss of a relationship and the disruption of a family can be a lot to handle. At Gerkin & Decker, we suggest spouses embrace these tips while committing to certain ground rules.
Whether you feel that your divorce will go smoothly or you know that it will be a difficult battle, you can count on the attorneys at Gerkin & Decker. We've helped thousands of men in your shoes, and we're ready to help you successfully navigate the divorce process. Contact us today to schedule a consultation.